---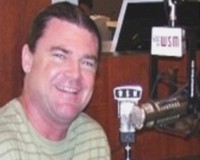 Jeff DeFord

Host of "Down To The Roots"

Contact Jeff


Down to the Roots Promo
Jeff DeFord
was born and raised in rural Indiana, developing a love for music and sports at an early age. After high school, Jeff attended Mesa College in Arizona, majoring in English and Broadcast Journalism.
He quickly secured an internship at the campus-based Public Radio station, KMCR-FM (later KJZZ-FM), playing vintage jazz and blues records. He also volunteered at KOOL-TV in Phoenix, working in the sports department, and providing the play-by-play voice of Mesa Thunderbirds basketball.
Jeff's "Down to the Roots" can be heard Thursdays at 4:00 PM and Saturdays at 2:00 PM, with an early morning rebroadcast on Wednesdays at 3:00AM.
You can contact Jeff at
jeff@defordmedia.com
After college, Jeff relocated to San Diego, California, staying busy working independently doing commercial advertising voice-overs and narrating talking books for children. After reconnecting with his love of old-time, bluegrass, folk and acoustic music, he realized there were no programs featuring the old-time music that had influenced so many of today's artists.
In 2006, he began hosting a unique old-time music show,
Down To The Roots
, from his home, sharing his knowledge and vast collection of vintage recordings with others.
In 2008, Jeff relocated to Nashville and worked with WSM to help develop a new radio program, "Bluegrass Underground".
Returning to Arizona, Jeff continues hosting Down To The Roots via several media outlets, eventually placing the show in worldwide syndication.