---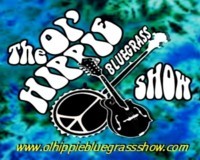 "Old Hippie Bluegrass"

Tuesday & Wednesday 10:00AM
Thursday 3:00AM, Saturday 12:00noon

with Jerry Eicher

Contact Jerry


Ol Hippie Bluegrass Promo
If you want to have a Great time listening to some driving bluegrass Music, with different styles like Old Time, Newgrass, Classic, Progressive, Dawg or Country Grass, along with some pretty singing from the best vocalist in Bluegrass! Even some Live performances now and then.
You can catch my show here on
Bell Buckle Radio
, 10:00AM, Tuesday and Wednesday and again on Saturday at 12:00PM, and an early morning rebroadcast on Thursdays at 3:00AM CST.
We try to stay on the cutting edge of what's going on in the bluegrass music world.