---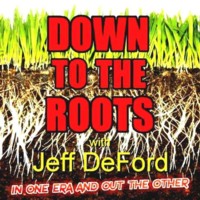 "Down To The Roots"

Wednesday 3:00AM, Thursday 4:00PM
Saturday 2:00PM

with Jeff DeFord

Contact Jeff


Down to the Roots Promo
Down To The Roots
is a weekly, syndicated program highlighting the old-time music of Country & Western artists dating back to the earliest days of recorded music through 1950. Each show features a wide variety of recordings, including previously-unreleased studio outtakes, live performances, vintage radio shows, musical skits and more.
Jeff's "Down to the Roots" can be heard Thursdays at 4:00 PM and Saturdays at 2:00 PM, with an early morning rebroadcast on Wednesdays at 3:00AM.
The program includes special segments like "Folk Song Focus", in which a popular folk tune's origin is explored with several artists' interpretations as well as differences in lyrics, melody and other variations.
Plus, the popular "Train Set", with a collection of songs about railroads, hobos and traveling on the steel wheels as the subject matter.
Also, the Down To The Roots "Square Dance", a set of tunes complete with callers shouting the organized dance steps. In addition, each week a collection of "Songs Of The Old West", with singing cowboys and similar groups relating musical tales of the Western frontier is presented.
Down To The Roots is a unique, one-of-a-kind program that will transport you back to a simpler time and place, widening the smile on your happy face.