---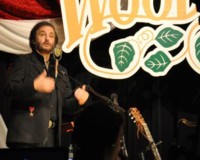 Michael Johnathon

Host of "Woodsongs Old-Time Radio Hour"

Contact Michael


Woodsongs Radio Hour Promo
Michael Johnathon to receive 2020 Kentucky Governor's Award
Folksinger Michael Johnathon has a long-standing career as a touring songwriter, playwright, composer of the opera, Woody: For the People, and as the host of the live audience broadcast of the WoodSongs Old Time Radio Hour with a radio audience with over two million listeners each week on 500 public radio stations, public television coast-to-coast, American Forces Radio Network in 173 nations and now on the RFD-TV Network nationwide.
"Woodsongss" can be heard Sundays and Tuesdays from 4:00 PM.
Each week great artists as diverse as Bela Fleck, Tommy Emmanuel, Elle King, Chris Thile, Judy Collins, Sam Bush, The Mavericks, Preservation Hall Jazz Band and many brilliant but yet unknown artists grace our stage. Plus, WoodSongs is the ONLY national, syndicated broadcast that features a youngster performing on every show.