---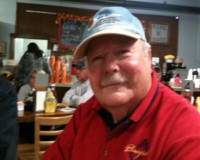 Norris Long

Host of "TGIF Bluegrass"

Fridays at 6:00PM, and Wednesdays at Noon Eastern

Contact Norris


TGIF Bluegrass
Norris is the host of TGIF Bluegrass, Friday afternoons. He has been a volunteer on-air broadcaster at Allegheny Mountain Radio since it's creation in 1981. Norris says he feels a personal responsibility to promote traditional music and he works tirelessly toward that goal, not only through his regular programming, but also as a performing musician.
Norris has been a member of several bluegrass and old time bands since 1975. He has been a member of the International Bluegrass Music Association since 1994 and is a contributor to Bluegrass Unlimited Magazine for the National Bluegrass Survey.
He lives in Pocahontas County, located in the southeastern mountains of West Virginia in the heart of the Allegheny Mountains.
TGIF Bluegrass
is heard here on
Bell Buckle Radio
, Fridays and Tuesdays at 6:00PM.
Contact information: email: hdbassman46@yahoo.com