---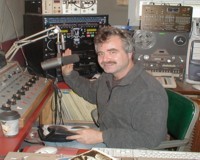 Jon Stein

Host of "Hootenanny Cafe"

Contact Jon


Hootenanny Cafe Promo
"Hootenanny Cafe" highlights local and National artists and folk singers, current and well known.
"Hootenanny Cafe" can be heard Thursdays and Fridays at 10:00 PM Eastern.
Host Jon Stein has been involved with music for many years. For over 20 years he performed as a singer songwriter. In 1996 he founded and created the Bodles concert series. After 7 years of presenting and hosting concerts at Bodles, he teamed with Michael Sussman, in April, 2003 to start a new concert series: Goshen Folk.
In addition to producing several adult shows during the year, they also presented "music for young people." The concert series lasted for two years. In 2005 Jon turned his personal interests to the stage as an actor, appearing in such shows as "Fools" by Neil Simon, "Sound of Music", Romeo and Juliette, The Devil and Daniel Webster, A Christmas Carol, You Can't Take It With You, Big River, The Female Odd Couple, Roger Miller's "Big River (Jon played the Duke), "Little Shop of Horrors" (in this production he was the shop owner, Mr Mushnik), etc Though no longer presenting live concerts or representing artists, he now hosts a live music radio show. The Hootenanny Cafe can also be heard at WTBQ in Warwick, NY.
In addition to acting and hosting a radio show, Jon maintains a busy piano tuning and repair business.