---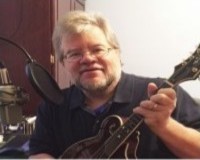 Jeff Miller

Host of "Flashpoint Bluegrass Radio Show"

Contact Jeff


Flashpoint Bluegrass Promo
Jeff Miller
is a native Tuscaloosan who has spent his life in various musical endeavors. From high school choirs and band through a Bachelor's degree in vocal music (University of Montevallo) to singing in semi professional and professional choral groups and directing church music for 15 years, he has always been involved in seeking excellence in musical expression.
The genre of Bluegrass came into his life at a very early age, hearing Bill Monroe, Doc Watson and the Osborne Brothers though his parents' record collection and TV appearances.
Through the years, Jeff has explored country, rock, blues, classical and folk music of various kinds, but has been very focused on Bluegrass and acoustic music for the last several years.
His day job is in a transportation company office, managing safety & compliance but his passion remains pursuit of music and the creative process. He began a website focused on such things in 2013 called Flashpoint
Flashpoint Arts
. There, he writes about the arts and creativity. There are reviews of CDs and concerts and interviews as well as his commentary pieces on the site. He also began the Flashpoint Bluegrass Radio Show in 2016. Since then, the show has expanded to four additional streams. He also hosts the long running weekly Bama Bluegrass program on Alabama Public Radio.
He is excited to bring the show to its newest stream: Bell Buckle Radio and looks forward to meeting a new group of friends in the Bluegrass community. Please be sure and contact him with questions and ideas.
Flashpoint Bluegrass Radio Show
is heard here on
Bell Buckle Radio
, Fridays at 1:00PM, again on Saturdays at 9:00PM, and an early morning rebroadcast on Tuesdays at 3:00AM.
Contact information: email: bluegrass@flashpointarts.org, Twitter: @flashpointarts1,
Facebook