---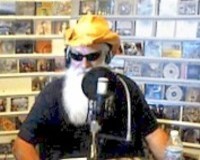 Jerry Eischer

Host of "Old Hippie Bluegrass"

Contact Jerry


Ol Hippie Bluegrass Promo
I've wanted to do radio ever since I was a kid listening to the DJs on CKLW out of Windsor, Canada and Detriot, Mi in the 60s. Now that I am older, the greatest thing about it is bringing the people's music (bluegrass) to folks that love it and some that never heard it!
How did I come about this music? Hmmm, lets see... when I was young my father would take me with him to see some friends of his that basically lived off the land. I think they came from the hills of Arkansas. Our family came by way of Pennsylvania and West Virginia and I was raised on a small farm near Delta, Ohio. These folks listened to some different music than I had heard on CKLW.
It was Country and Western! Hank Williams; Johnny Cash, Jimmy Rogers and Uncle Dave Macon on the record player. But then sometimes they would tune into this station late at night on the radio and you could hear Bill Monroe, Lester Flatt and Earl Scruggs play Bluegrass! Later I figured out this was WSM out of Nashville, TN. They are still on the air today at 6:50 AM. They still come in best late at night here too.
So for me to be able to bring this great music to our listeners by radio locally and around the world now is a wonderful thing! Maybe someone will hear it and be inspired like I was or even more than I was. I hope they go on to be a great musician some day!
You can catch my show here on
Bell Buckle Radio
, 10:00AM, Tuesday and Wednesday and again on Saturday at 12:00Noon, and an early morning rebroadcast on Thursdays at 3:00AM.