---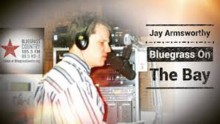 Jay Armsworthy

Host of "Bluegrass on the Bay"

Contact Jay


Bluegrass On The Bay Promo
For nearly 7 years, Jay hosted "Bluegrass on the Bay" on 2 local radio stations near is hometown of California, Maryland. Today he is heard on 4 stations and produces the program from his home.
Bluegrass on the Bay
is currently heard on Bell Buckle Radio each Monday and Wednesday from 4:00PM, with an early morning rebroadcast on Fridays at 3:00AM.
Jay started his radio career on January 17, 1993 on AM WPTX radio in Lexington Park, Maryland playing Bluegrass music for a 1 hour show he called "The Bluegrass Hour". Nestled off the coast of the Chesapeake Bay, he changed the name of his show to "Bluegrass on the Bay" when an additional hour was added as well as another radio station. It was then he was heard on its sister station FM WMDM. He has also been heard on FM WBEY in Pocomoke City, Maryland and World Wide Bluegrass.com.
In addition to radio Jay plays guitar and sings with his band, Jay Armsworthy & Eastern Tradition, throughout the East Coast. He has also been a part of other regional bands in the state of Maryland. Jay also traveled and performed throughout the summer of 1995 with Bluegrass Artist: David Davis & the Warrior River Boys as well as the Paul Adkins Band in his later years. To date, Jay currently has 4 CD's recorded with his latest being an all gospel release on Tom T. & Miss Dixie Hall's record label, "Blue Circle Records", titled "I Couldn't Make It Without Him" which has gained high recognition. He also promotes and produces his own Bluegrass concerts at a local area American Legion Hall, an annual fundraiser for the Hospice of St. Mary's County, Maryland, and more [recently an annual Bluegrass fundraiser for the Hollywood, Maryland Volunteer Rescue Squad bringing in some of Bluegrass music's top acts.
Jay Armsworthy is a lifetime member of IBMA and a member of the Class of 2005 Leadership Bluegrass and is dedicated to preserving Bluegrass Music in his community. He eats, sleeps, and breaths traditional Bluegrass Music and is always up for a conversation of just about anything and at times may have a corny joke or two.