---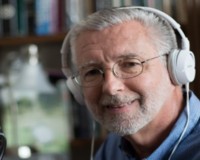 Steve Martin

Host of "Unreal Bluegrass"

Contact Steve


Unreal Bluegrass Promo
Steve Martin's
Unreal Bluegrass
is a weekly radio program hosted by music aficionado, banjo artist and real life trial lawyer Steve Martin. The show is not your standard bluegrass radio program. With knowledge of musical history and the understanding that the genre is gradually evolving under our noses, the show explores a wide range of musical styles, from the traditional strains of Ralph Stanley and Bill Monroe to the more mainstream rhythms of Rhonda Vincent and Alison Brown, and the more innovative and modern work of artists like Jerry Douglas, Bela Fleck and Noam Pikelny.
Central to the theme of each week's show is an interview with the genre's "legends and those becoming" giving listeners the opportunity to hear from the artists themselves as if they were sitting across the table from an old friend. Behind-the-scenes stories and stories of inspiration from each artist make these a record of bluegrass history as you've never heard before.
Tune in on Sunday at 6:00PM for Steve Martin's Unreal Bluegrass, with an early morning rebroadcast on Mondays at 3:00AM
.....it's "just a little outside the flattop box!"