---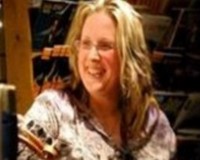 "Old Home Place"

with Lisa Kay Howard-Hughes

Tuesday 7:00PM, Saturday 11:00AM

Contact Lisa-Kay


Old Home Place Promo
Lisa Kay Howard hosts
The Old Home Place
Tuesday evenings
at 7:00pm and Saturdays at 11:00m.
She was one of the rotating hosts of WAMU's Bluegrass Overnight
and formerly hosted The Old Home Place on Bluegrass Country.
"A radio broadcaster since 1992, host Lisa Kay Howard loves to share her vast knowledge of bluegrass trivia with you on her show The Old Home Place. You'll hear all the newest bluegrass along with music reaching back to early bluegrass days, and she also includes artists pushing the edges of the genre! She also loves to play your favorites, requests are welcomed at mandolinlk@aol.com.
Based in northwestern VA, mandolinist Lisa Kay has also been a member of Valerie Smith's Liberty Pike band since 2014."
Read more about Lisa Kay...