---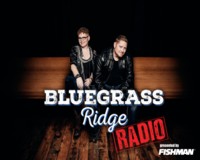 Nu-Blu (Daniel & Carolyn Routh)

Host of "Bluegrass Ridge Radio"

Contact Nu-Blu

Nu-Blu is the husband-and-wife duo Daniel and Carolyn Routh from Siler City, North Carolina.
Daniel is the band's manager, a multi-instrumentalist, and provides backing vocals to Carolyn's caramel-coated soprano. Carolyn is also the group's bassist and they are currently joined by Austin Hefflefinger on banjo, and Justin Harrison on mandolin.

Starting in September of 2003, they've embodied the American working band, keeping the tradition but not afraid of pushing the envelope such as their George Jones inspired tribute single "Jesus and Jones" featuring Rock and Roll Hall of Fame singer 'Soul Man' Sam Moore (of the iconic duo Sam and Dave).

The award-winning band has also made appearances on Fox News in the past, while also having their music featured on CBS "Sunday Morning." Recently they have moved into the role of helping bring Bluegrass to the masses, serving as the permanent host of the nationally-syndicated TV show "Bluegrass Ridge," which airs in 160 million homes worldwide.

The Routh's also host their own Bluegrass Ridge Radio program which is a 15-20 minute interview segment with the focus on bringing you closer to the artists you love to hear, along with cuts from the artists and from Nu-Blu.

Bluegrass Ridge Radio can be heard Tuesdays at 12:00noon and Thursdays at 9:00PM.