---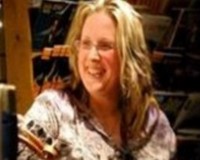 Lisa Kay Howard-Hughes

Host of "Old Home Place"

Contact Lisa-Kay


Old Home Place Promo
Hi, I'm Lisa Kay!
I've loved bluegrass ever since I was a girl growing up in the countryside of Virginia.
I started playing mandolin in the late 80s, and played my first gig on stage after 5 months with a mandolin in my hands; with my family band, Crooked Run. Later I helped found the DC-based group Badly Bent, and I spent several years touring with Maryland's Flying Blind Bluegrass and Jay Armsworthy & Eastern Tradition.In 2007, I began fronting my own band in the DC area, The Lisa Kay Band. It's been a wonderful ride, and I eat, sleep, and breathe this music, and always have.
Now I'm performing with an amazing group of musicians and writers--East Of Monroe. We have just completed our debut album.
I can't wait for you to hear it!
I am currently touring and recording with Valerie Smith & Liberty Pike. We are proud of our new release, "Small Town Heroes".
I am also a radio host! I've had a show on the air continuously since 1993...You can hear me on Bell Buckle Radio on Tuesday at 7:00PM and Saturday at 11:00AM. My show's called The Old Home Place, hope you'll stop by and say howdy!